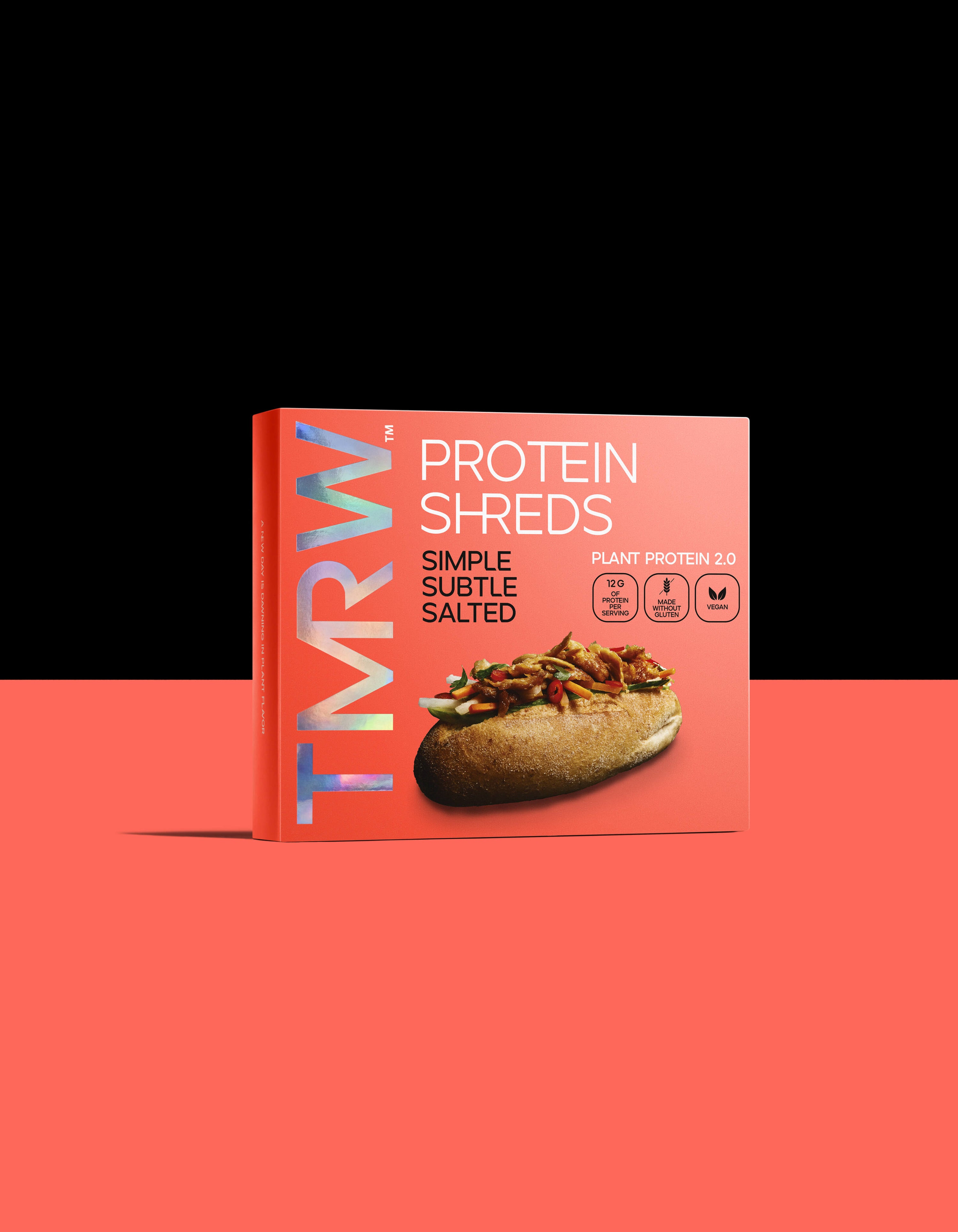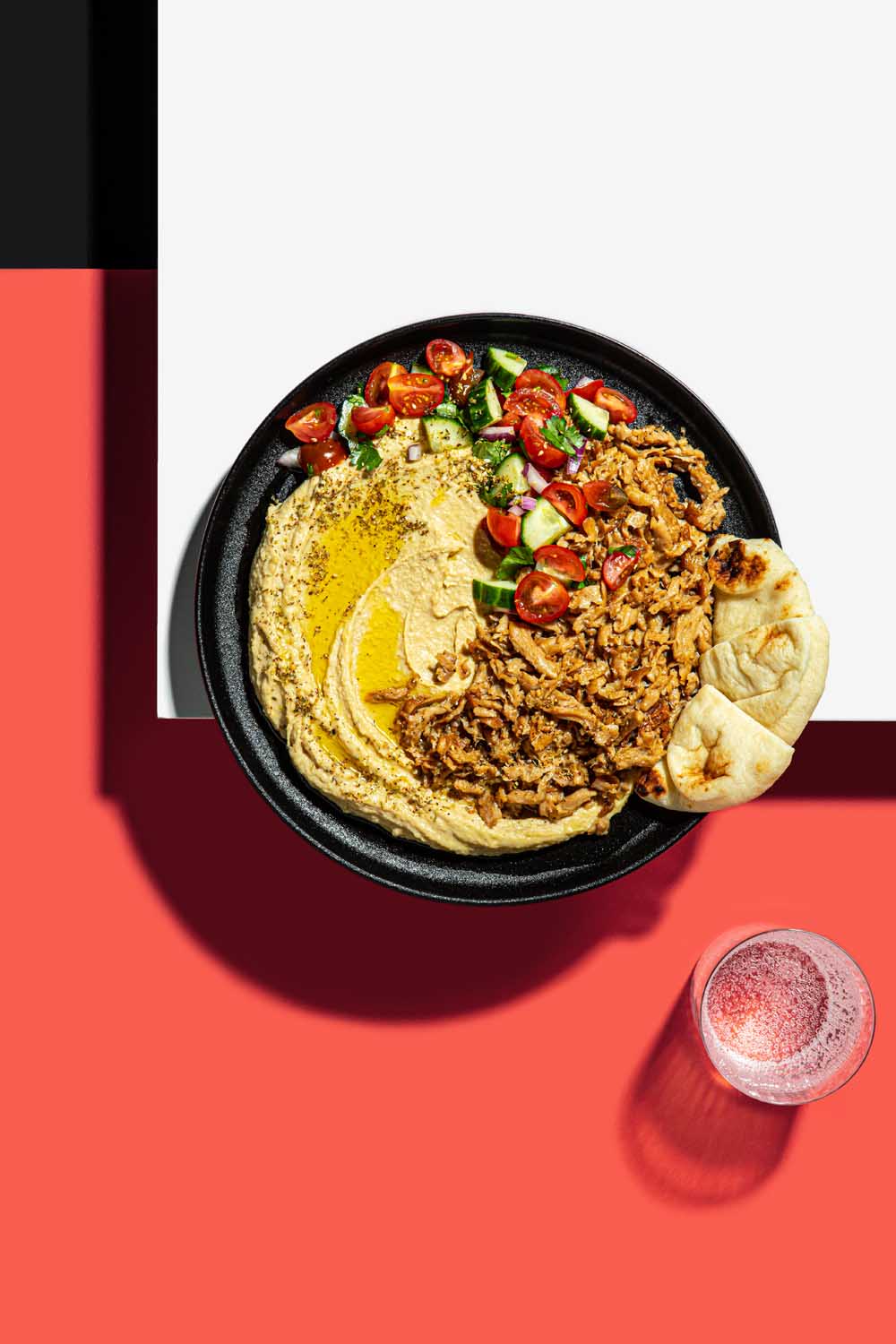 LIGHTLY SEASONED PROTEIN SHREDS
Overview
LIGHTLY SEASONED PROTEIN SHREDS MADE WITH 100% PLANT PROTEIN. A CANVAS FOR YOUR FAVORITE MARINADE OR RUB, OR A MASTERPIECE OF SUBTLE FLAVOR ON THEIR OWN.
Ingredients
WATER, TMRW™ PROTEIN (PEA ISOLATE, OAT FLOUR, BROWN RICE PROTEIN CONCENTRATE), EXPELLER PRESSED CANOLA OIL, NATURAL FLAVORS (CONTAINING YEAST EXTRACTS, SALT, SPICE EXTRACTS, COCONUT OIL, CELERY JUICE POWDER, CARROT JUICE POWDER, ONION JUICE POWDER), APPLE CIDER VINEGAR, SEA SALT.
CONTAINS COCONUT.
How to Cook
THAW BEFORE COOKING.

HEAT A LIGHTLY OILED SKILLET TO MEDIUM-LOW. FRY SHREDS FOR 6-8 MINUTES UNTIL CRISPY, FLIPPING ONCE OR TWICE.

DO NOT BOIL OR MICROWAVE. DO NOT EAT RAW. ALWAYS COOK TO AN INTERNAL TEMPERATURE OF 165°F
Storage
USE WITHIN 28 DAYS ONCE THAWED.
CONSUME WITHIN 5 DAYS OF OPENING.
KEEP REFRIGERATED OR FROZEN.
Nutritional Facts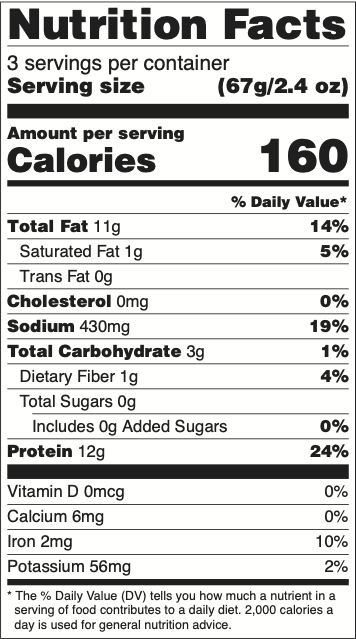 A CANVAS FOR YOUR FAVORITE MARINADE OR RUB
Explore Reviews
These are easy to cook and the price point is great. I put it in my veggie burger and it enhanced the taste for the better. Love the fact it's able to be frozen. In my busy lifestyle this is a great option for fast and convenient plant based protein especially since it cooks in six minutes.
Absolutely LOVED trying this product for the first time! The shreds have a very satisfying meaty texture that's very close to actual meat. I like that the ingredient list is relatively clean. Provides a great source of protein. They also have a great taste. They are so easy to prepare and crisp up quite nicely. Love the packaging!
This product was super tasty! The texture was great and unlike other fake meat products I've tried before.
I liked these, I think they would be an especially good substitute for something like shredded chicken thighs. If someone served me this and told me it was chicken I would probably believe them.
The product crisps up really nice. Taste great on its own. It has a lot of good flavor, higher than I expected. The shreds stay in its form and doesn't turn into mush. Would be great in many different styles and seems like it would soak up a marinade really well. Doesn't have too much salt so you can marinade it how you like.
I really liked how quick it was to cook and how easily it took on the flavours of the spices I added. The texture is good. Perfect for tacos, wraps, even sandwiches. Overall good flavour and I like how it came apart easily.
Very impressed with the product! I have been vegetarian for 10 years and have tried many products. With chicken simulated products, they are hard to find a quality/enjoyable option and I will definitely be buying this again! Great for dips, wraps, snacking.
The shreds smelled good as they were being cooked, have a good color too. The texture got nice & crispy on the outside & soft on the inside.
Taste and texture wise I was pleasantly surprised! It is very versatile and you can add your own spices or sauce to make it taste just how you want.
I like this natural food. Tastes like real meat. It is very easy to prepare as well.