Overview
A CANVAS FOR MARINADES AND RUBS, Elevate your bowls & salads, with a protein punch. Tuck it into wraps, sandwiches and tacos. Add nourishing depth to stews and soups!
Ingredients
Water, TMRW ™ plant protein (pea protein isolate, oat flour, rice protein, plant nutrient extract blend [tomato, broccoli, carrot, shiitake mushrooms, cranberry, apple, orange]), Expeller pressed canola oil, Apple cider vinegar, Spices, Natural flavours (contains yeast extract, salt)
How to Cook
Thaw before cooking.
Season or marinade shreds as desired.

Stovetop (Per 200g):
Heat a non-stick skillet over medium heat. Once Pan Is HOT, add 1-2 tbsp oil (per 200g of protein).
Sauté shreds without stirring for 5-6 minutes or until the bottoms are crisp.
Stir and allow to cook for an additional 6-8 minutes until crispy, stirring occasionally.

Convection Oven:
Set the oven to 165°C/330°F and add a thin layer of oil to the bottom of the basket.
bake shreds for 14-18 minutes until crispy, shake halfway through.

Regular Oven:
Set the oven to 175°C/350°F and add a thin layer of oil to the bottom of the pan.
Add shreds to pan and toss in oil.
Bake shreds for 15-20 minutes until crispy, toss halfway through.

Do not boil or microwave.
Storage
Once thawed, use within 7 days (refrigerated).
Keep frozen or refrigerated.
Nutritional Facts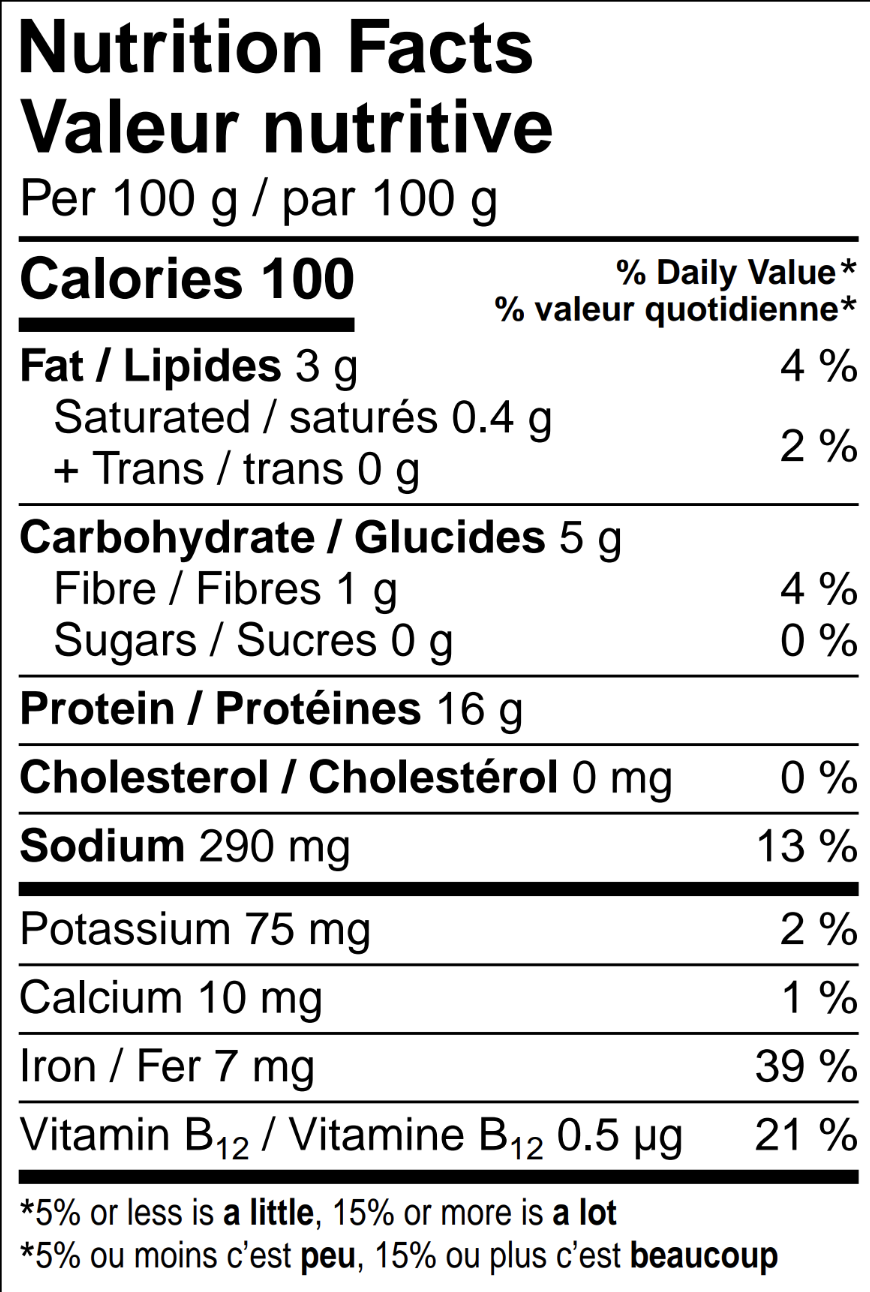 A CANVAS FOR YOUR FAVORITE MARINADE OR RUB