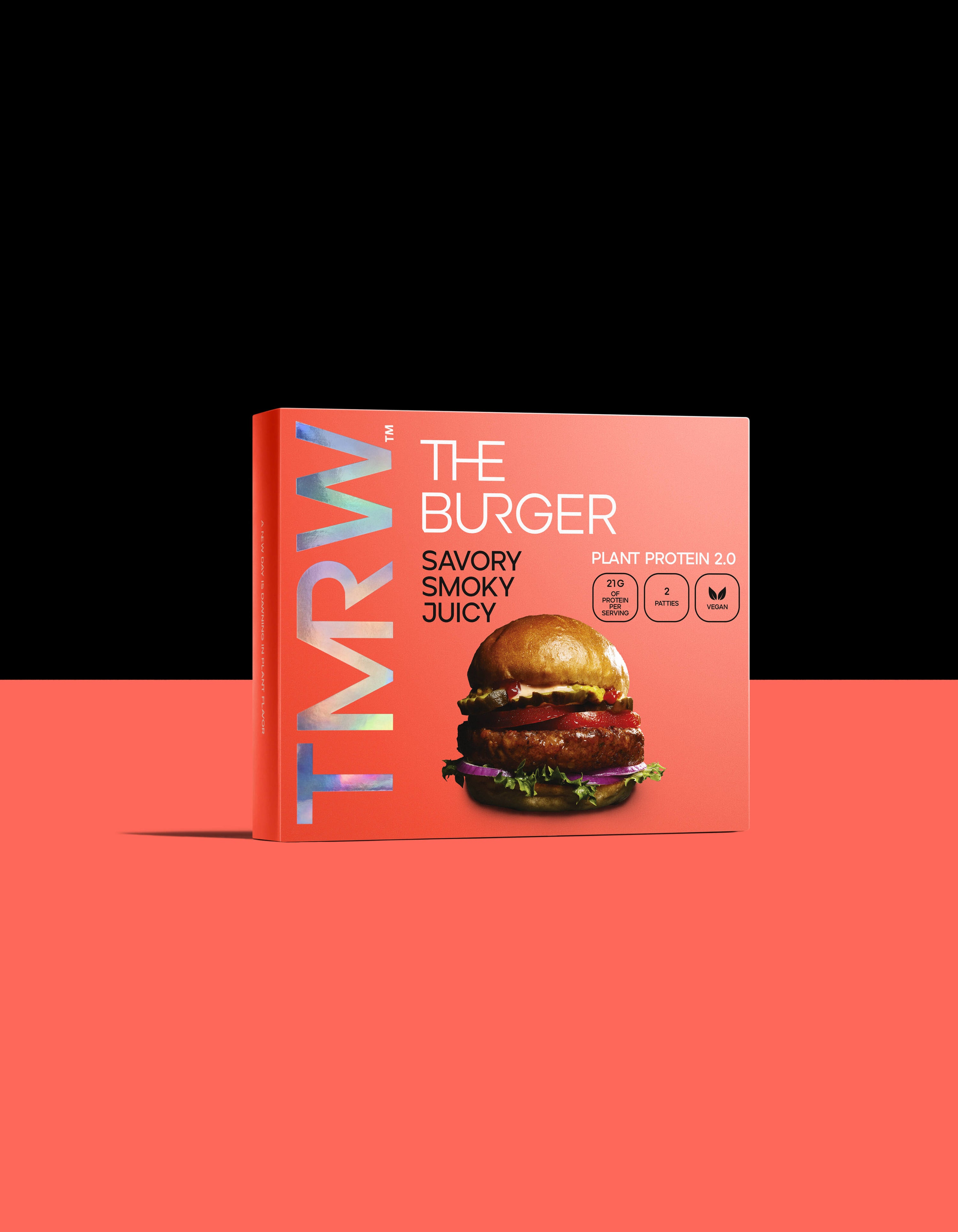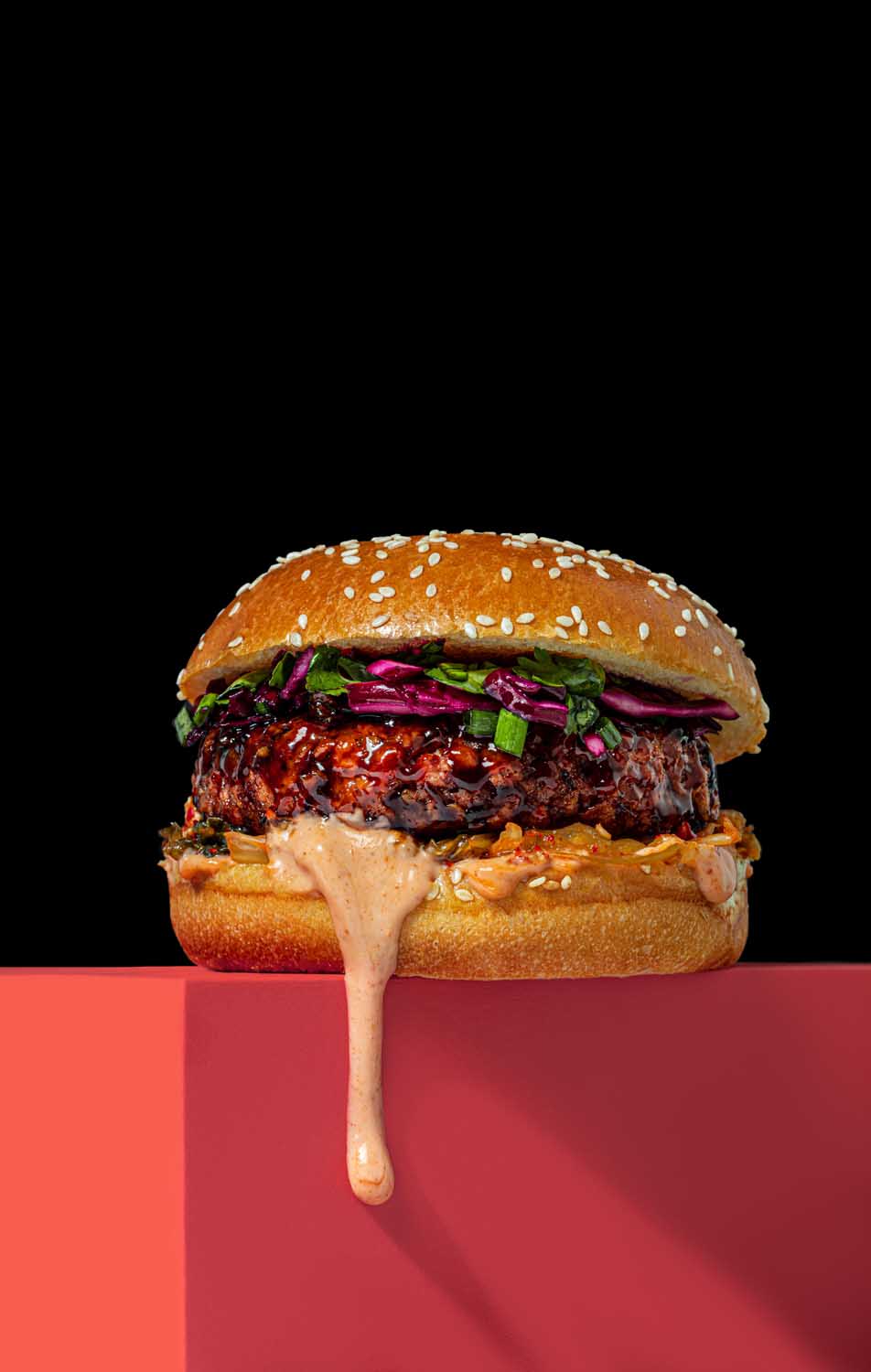 Overview
A GOURMET BURGER MADE FROM 100% PLANT PROTEIN. PACKED WITH SMOKY, SAVORY FLAVOR THAT WILL BE SEARED INTO YOUR MEMORY.
Ingredients
WATER, TEXTURED WHEAT PROTEIN, TMRW™ BLEND (COOKED KIDNEY BEANS, COOKED YELLOW SPLIT PEAS, HULLED SUNFLOWER SEEDS), EXPELLER PRESSED CANOLA OIL, COOKED QUINOA, REFINED COCONUT OIL, NATURAL FLAVORS (CONTAINING YEAST EXTRACTS, SALT, SPICE EXTRACTS), HULLED HEMP SEEDS, METHYLCELLULOSE, PEA PROTEIN ISOLATE, DRIED YEAST, BEET POWDER (COLOR), POTATO STARCH, SUNFLOWER LECITHIN, APPLE CIDER VINEGAR, SMOKED PAPRIKA, CUMIN SEED POWDER, CORIANDER POWDER, BLACK PEPPER, ONION POWDER, SEA SALT, GARLIC POWDER, AGAR, TOCOPHEROLS (PRESERVATIVE).
How to Cook
HEAT A GREASED SKILLET TO MEDIUM-HIGH. COOK FROM THAWED, 3 MINUTES PER SIDE UNTIL GOLDEN BROWN.

DO NOT BOIL OR MICROWAVE.
DO NOT EAT RAW.
ALWAYS COOK TO AN INTERNAL TEMPERATURE OF 165°F.
Storage
USE WITHIN 14 DAYS ONCE THAWED.
CONSUME WITHIN 5 DAYS OF OPENING.
KEEP REFRIGERATED OR FROZEN
Nutritional Facts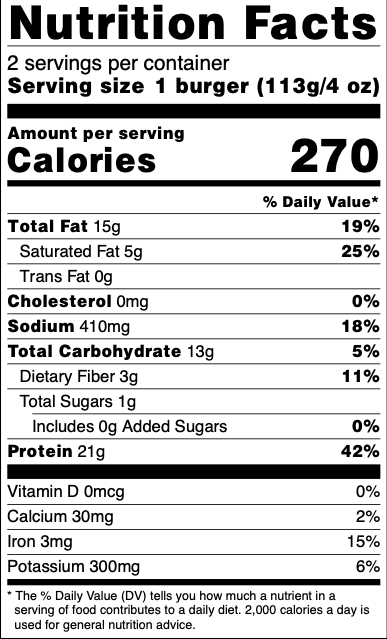 A CANVAS FOR YOUR FAVORITE MARINADE OR RUB
Explore Reviews
We eat a lot of beyond meat products in our house because we love the taste. I found the TMRW burger to be super flavourful, super easy to cook and an easy replacement for meat products.
The burger was very easy to cook and it held its shape. It was moist and resembled the taste of real meat. It was delicious and flavourful.
I've tried various different kinds of meat alternative burger products. This one stands out to me in terms of ingredients, quality and taste.
Overall the experience was enjoyable as the product tasted great and had an enjoyable texture. It was also easy to prepare based on the directions on the packaging
I enjoyed the TMRW burger very much and would like to repurchase it due to its unique texture that tastes wholesome. It's an added bonus that the product is made near where I am located.
It does taste better than other veggie Burgers I've had.
I was very impressed with the look and texture of the raw product. It looked like real beef. I liked the fact that it only took 3 minutes a side to cook the burger on medium heat and that the finished cooked burger once again looked like a real beef burger. The cooked burger was moist and meaty with great flavors. I liked the fact that there was no strong after taste and the taste that lingered was pleasant and enjoyable.
I would say I prefer this product I've tried today opposed to beyond meat the reason being is the product is less slimy and formed together alongside the product isn't greasy at all. Overall I do prefer this burger as it does taste more meat like and not as heavy.
I really enjoyed trying out this product. It wasn't very fragrant after the cooking. However, on my grill, it was a bit crunchy on the edges that made it taste much better! I would definitely try other products of this again. I allowed the meat to thaw for about two days and it still looked fresh. Good as new! I consider this to be a good product.
The burger was definitely very delicious when grilled on a cast iron pan!