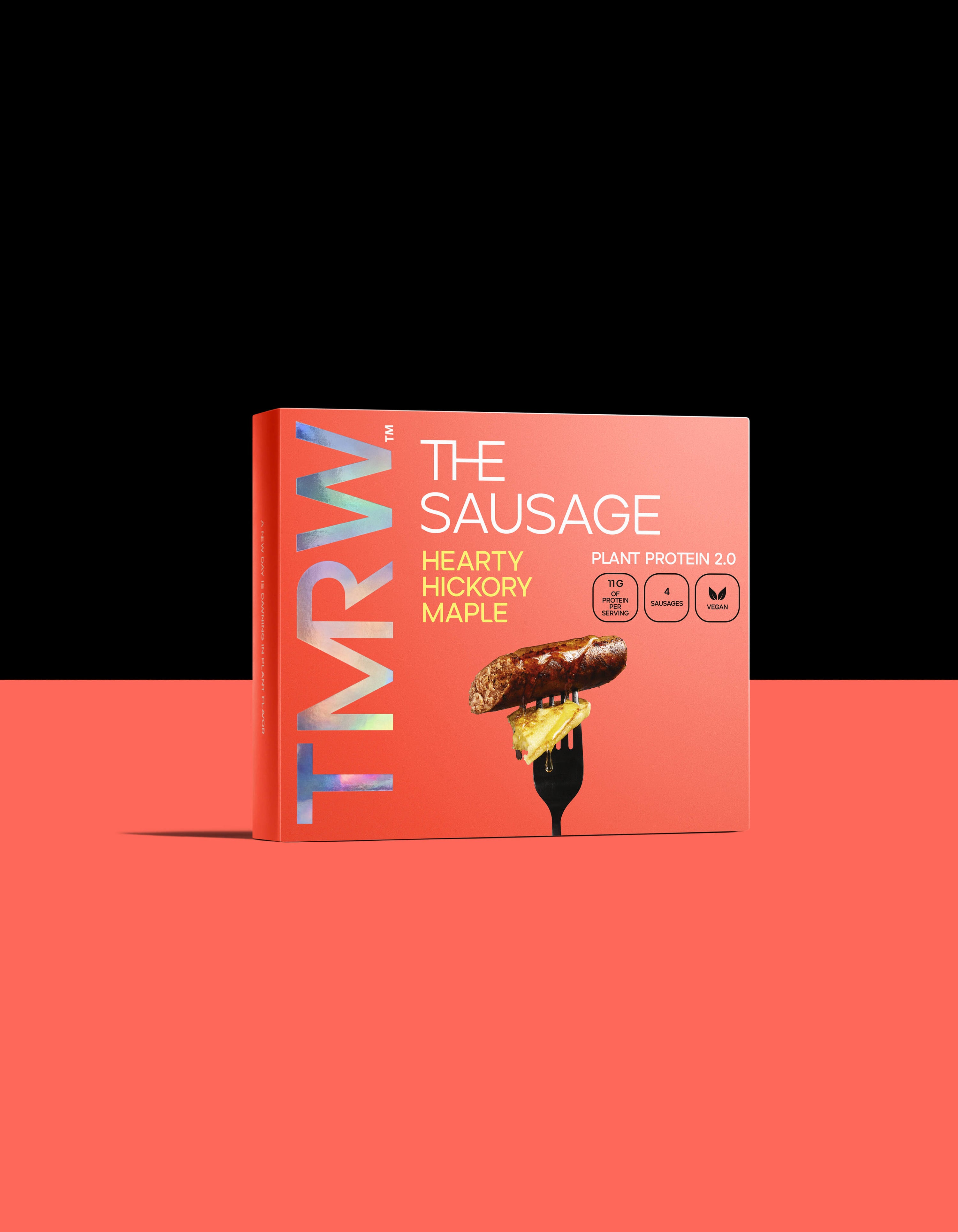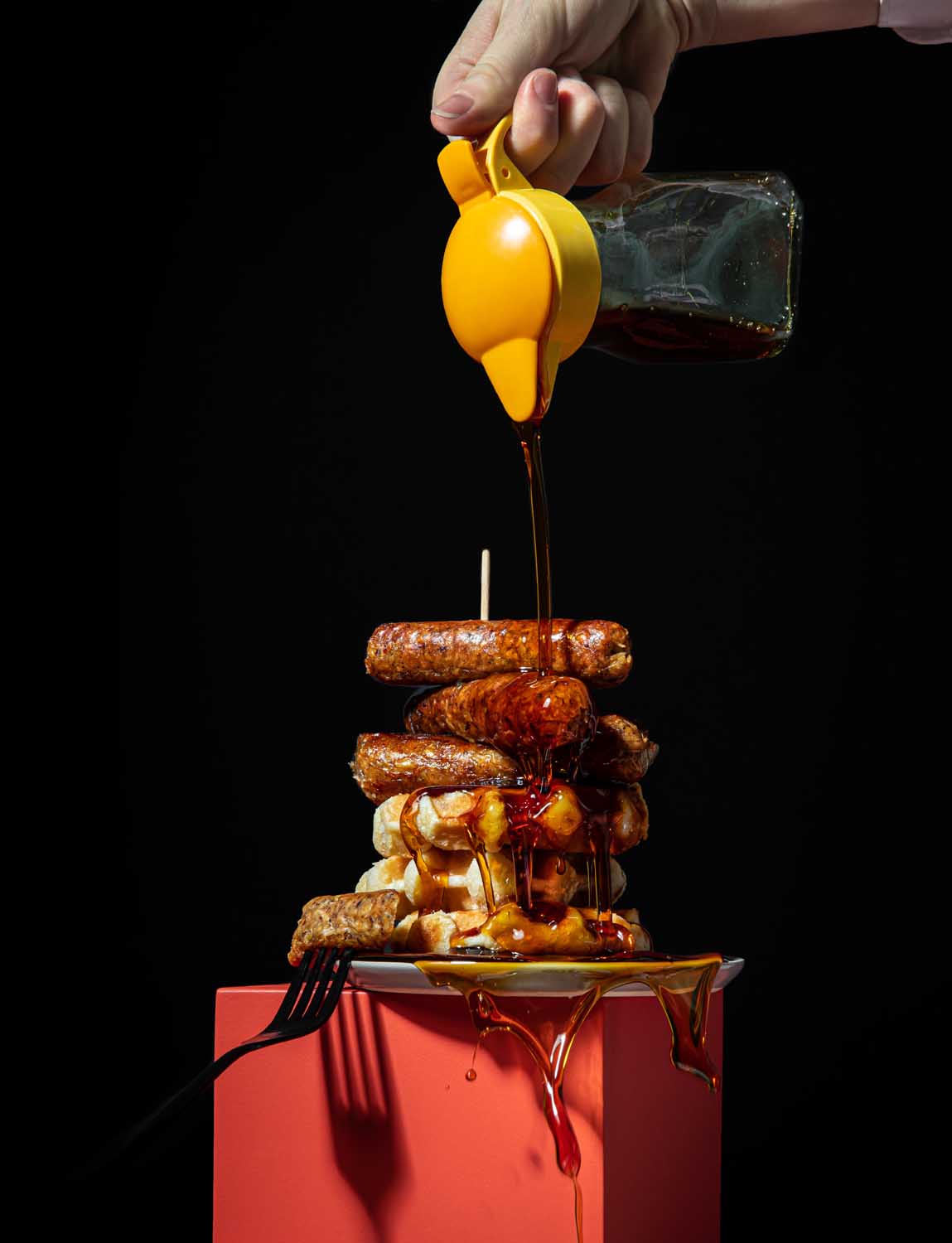 Overview
HEARTY HICKORY MAPLE BREAKFAST SAUSAGES MADE WITH 100% PLANT PROTEIN. SCENTED WITH SMOKE AND KISSED WITH A SUBLIME MAPLE SWEETNESS.
Ingredients
WATER, TEXTURED WHEAT PROTEIN, TMRW™ BLEND (COOKED KIDNEY BEANS, YELLOW SPLIT PEAS, HULLED SUNFLOWER SEEDS), REFINED COCONUT OIL, EXPELLER PRESSED CANOLA OIL, COOKED QUINOA, NATURAL FLAVORS (CONTAINING YEAST EXTRACTS, SALT, SPICE EXTRACTS), MAPLE SYRUP, HULLED HEMP SEEDS, METHYLCELLULOSE, PEA PROTEIN ISOLATE, PLANT-BASED CASING (CARRAGEENAN, GLYCERIN, WATER, RICE STARCH), DRY VINEGAR, DRIED YEAST, POTATO STARCH, SUNFLOWER LECITHIN, BLACK PEPPER, APPLE CIDER VINEGAR, SEA SALT, BEET POWDER (COLOR), AGAR, TOCOPHEROLS (PRESERVATIVE).
How to Cook
(SKILLET) COOK FROM FROZEN OVER MEDIUM-LOW HEAT FOR 12 MINUTES, TURNING OFTEN.

(GRILL) COOK THAWED SAUSAGES FOR 6 MINUTES AT 500 DEGREES TURNING ONCE OR TWICE HALFWAY THROUGH.

DO NOT BOIL OR MICROWAVE. DO NOT EAT RAW.
ALWAYS COOK TO AN INTERNAL TEMPERATURE OF 74°C (165°F).
Storage
USE WITHIN 14 DAYS ONCE THAWED.
CONSUME WITHIN 5 DAYS OF OPENING.
KEEP REFRIGERATED OR FROZEN
Nutritional Facts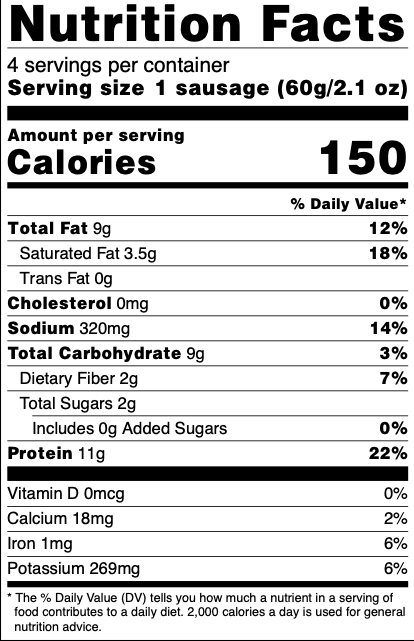 The Sausage
HICKORY MAPLE SAUSAGES
SCENTED WITH SMOKE AND KISSED WITH A SUBLIME MAPLE SWEETNESS.
Explore Reviews
The sausages were very satisfying and I would be interested in trying additional plant based TMRW products. I would also like to slowly phase out meat options with plant based on occasion so having options is great.
The packaging and taste of the sausage will make me reconsider my meat choose going forth. It had so much flavour.
I want to try more of TMRW products after this positive experience. I like that TMRW is a Canadian company and would love to support them
This sausage was incredible, as a first time tryer of the plant based sausage I couldn't even tell the difference. The smell while it was cooking was amazing, the tastes was even more amazing. So much flavour and fullness to it. I am planning to purchase more!!
I've tried a lot of vegan sausages and this was one of the best. It was super flavourful, smelled great and easy to cook. It is a great alternative to many of the other vegan sausages I have tried. Tastes great on its own or in another dish.
These are absolutely delicious! The flavour is great and the price is better than my former favourite sausage, Beyond Meat. I will be purchasing Tmrw Sausage for my barbecues all summer! I love that these are made in Canada as well.
The sausage has a good flavour and texture. Not too oily when cooked compare with meat sausages. I enjoy the taste of the plant base sausage more to be honest.
This is the first time I tried plant-based sausage and pretty much surprised that the texture is pretty much the same as the real meat. The taste is good too. I can still get the protein I need. It will be a good alternative of meat for me.
These sausages are easy to prepare and smells great.
I really enjoyed the cooking experience and overall taste.
SHOP By Protein
SWIPE FOR MORE