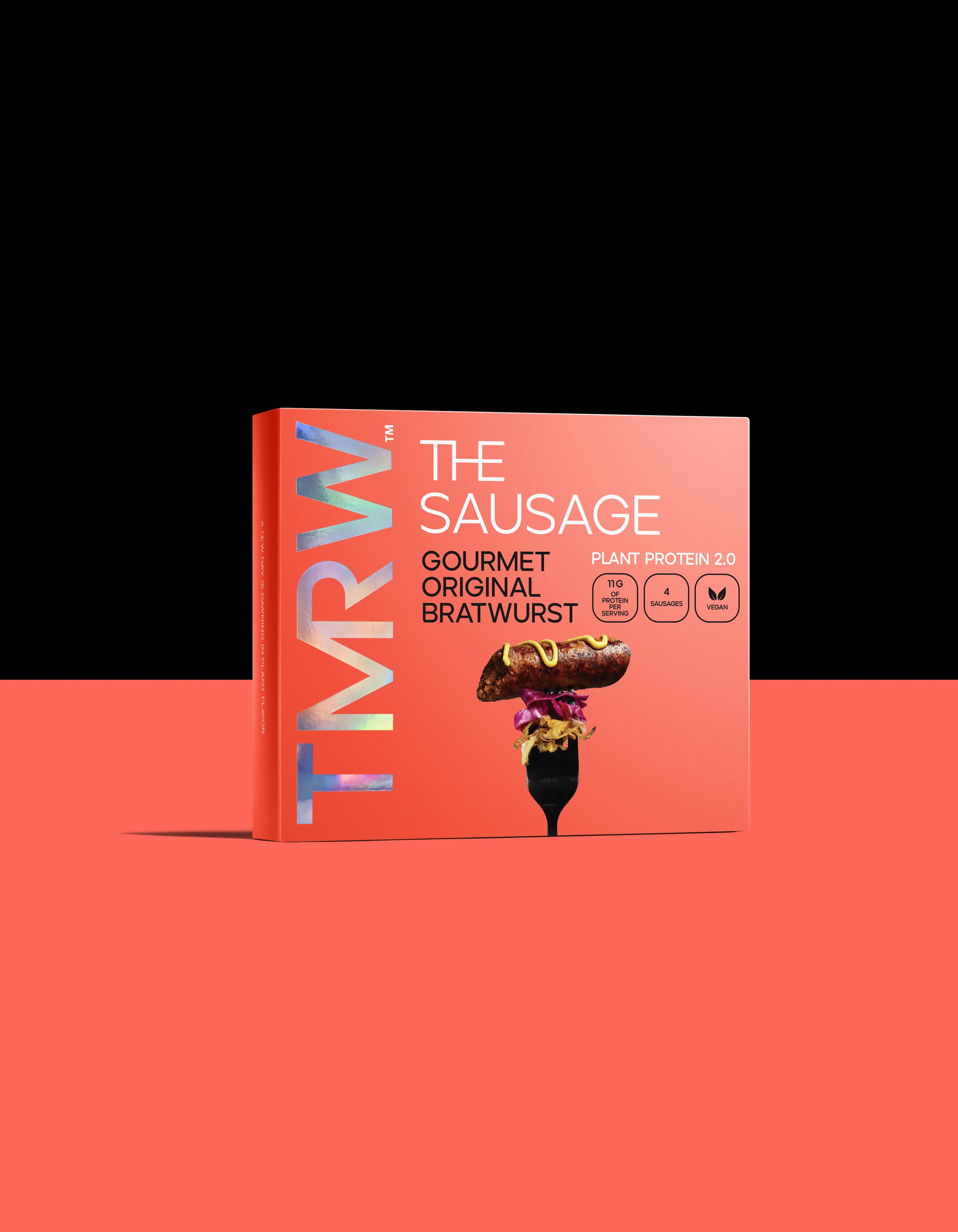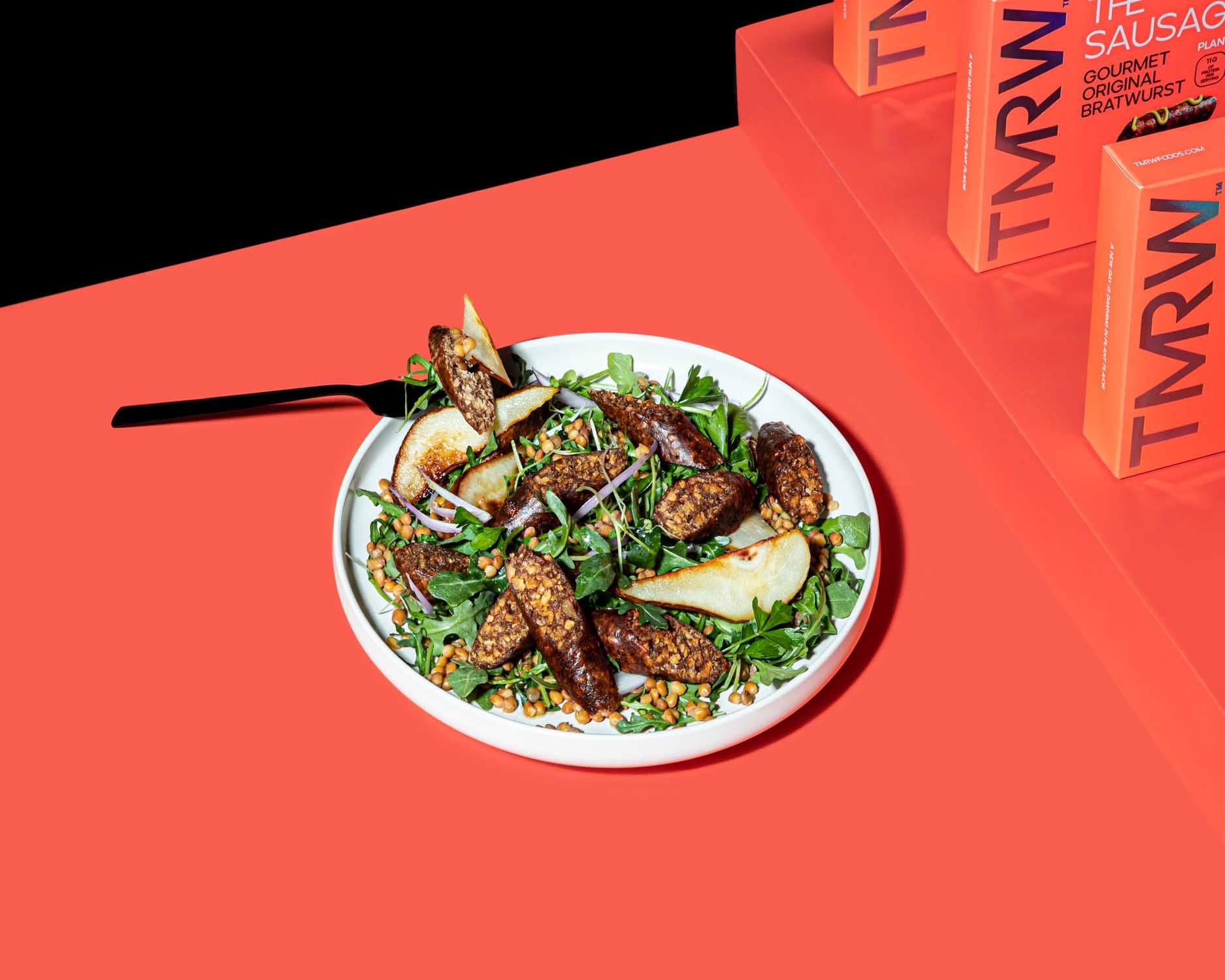 ORIGINAL BRATWURST SAUSAGES
Overview
ORIGINAL BRATWURST SAUSAGES MADE WITH 100% PLANT PROTEIN. BURSTING WITH FULL-BODIED TASTE, BEGGING TO BE GRILLED OVER OPEN FLAME OR SEARED TO PERFECTION.
Ingredients
WATER, TEXTURED WHEAT PROTEIN, TMRW™ BLEND (COOKED KIDNEY BEANS, YELLOW SPLIT PEAS, HULLED SUNFLOWER SEEDS), REFINED COCONUT OIL, EXPELLER PRESSED CANOLA OIL, NATURAL FLAVORS (CONTAINING YEAST EXTRACTS, SALT, SPICE EXTRACTS), COOKED QUINOA, HULLED HEMP SEEDS, METHYLCELLULOSE, PEA PROTEIN ISOLATE, CORIANDER SEED, PLANT-BASED CASING (CARRAGEENAN, GLYCERIN, WATER, RICE STARCH), DRY VINEGAR, DRIED YEAST, POTATO STARCH, GARLIC POWDER, ONION POWDER, ALLSPICE POWDER, BROWN SUGAR, SUNFLOWER LECITHIN, APPLE CIDER VINEGAR, SMOKED PAPRIKA, BLACK PEPPER, SEA SALT, BEET POWDER (COLOR), AGAR, NUTMEG POWDER, CINNAMON POWDER, TOCOPHEROLS (PRESERVATIVE).
How to Cook
(SKILLET) COOK FROM FROZEN OVER MEDIUM-LOW HEAT FOR 12 MINUTES, TURNING OFTEN.

(GRILL) COOK THAWED SAUSAGES FOR 6 MINUTES AT 500 DEGREES TURNING ONCE OR TWICE HALFWAY THROUGH.

DO NOT BOIL OR MICROWAVE. DO NOT EAT RAW.
ALWAYS COOK TO AN INTERNAL TEMPERATURE OF 74°C (165°F).
Storage
USE WITHIN 14 DAYS ONCE THAWED.
CONSUME WITHIN 5 DAYS OF OPENING.
KEEP REFRIGERATED OR FROZEN
Nutritional Facts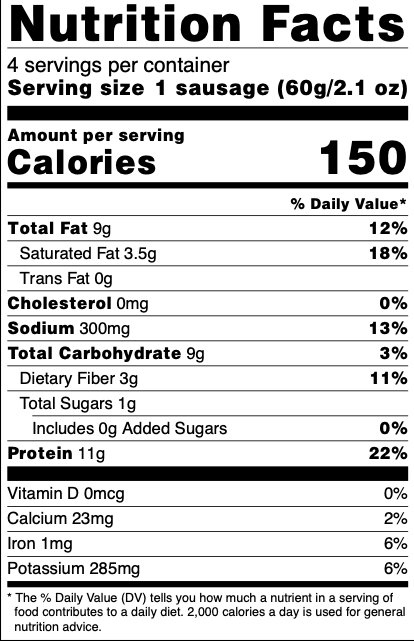 The Sausage
ORIGINAL BRATWURST SAUSAGES
BEGGING TO BE GRILLED OVER OPEN FLAME OR SEARED TO PERFECTION.
Explore Reviews
I was honestly not expecting it to be this good! granted I haven't had a meat sausage in a while, this was was probably the best sausage I've ever had! it was sizzling so beautifully in the pan and the smell was great! I had much lower expectations because I thought it was going to be very mushy (like prior veggie burgers I've had) but this was perfect :)
Sausage had a good texture to it, good snap on the outside like a regular "meat" sausage. It cooked up very well and the serving size was nice.
This is delicious!! One of the best plant based sausages I have had. The flavour, texture and smell really reminds me of a meat sausage. Love that it didn't taste overly processed or salty.
Actually I'm pretty new to plant-based product. I prefer meat more than vegetables. After trying this and knowing that plant-based products are better for environment, it definitely changes my mind.
I enjoy the clean taste that this product has. It also has nice packaging which I really look for when buying a product. And I enjoyed that it was a locally made product as it was made in Canada.
These sausages were a hit. I had them pan fried with rice, mixed vegetables and kimchi (fermented cabbage). I would love to try TMRW burgers as well as other sausages.
I like how its not as salty as the sausages made with meat, and not as rough. It was soft to bite. It was great!
Overall, I like the browning on outside and that they were not soggy and I love the consistency on the inside…it was pretty close to being a sausage. I like that they were not oily or slick and I like that the ingredients show when you cut open the sausage you can see what it made of - it's not uniform & bland.
The sausage tasted great and was delicious.
I had a great experience and happy I found something new in plant-based products.
SHOP By Protein
SWIPE FOR MORE